Association
4 Emerging Association Trends to Watch This Year
Anticipating and quickly adapting to new developments is essential for top performance; here are 4 association trends to keep an eye on this year.
---
Happy St. Patrick's Day!
As the luck of the Irish would have it, ASI has just released the 7th annual Membership Performance Benchmark Report and some of the survey results might surprise you a bit. In today's post, we share the important facts and figures, but we also highlight the following 4 key trends you'll want to keep in mind throughout the coming year.
1. Associations are Exploring New Technologies
While it was great to see that 86% of this year's Membership Performance Benchmark Survey respondents report they can access critical systems remotely, there is still work to be done to ensure staff and members have full use of all systems from anywhere at any time, particularly as pandemic lockdowns continue.
Cloud-Based Association Software is the Clear Focus
More than 55% of survey respondents are looking at new systems to manage their member data and 34% will be looking for a new system within the next year.
If you're one of these association professionals, remember these tips:
• Choose a System that's Purpose-Built for Associations: Generic CRM-based platforms were originally developed for corporate sales forces and the providers often don't fully understand the complex needs of membership organizations. An Engagement Management System (EMS) can be a good option for you.
• Avoid Customization: CRM-based software can require layers and layers of expensive customizations just to do simple association tasks. Choose a system with the out-of-the-box functionality you need.
• Consider the Third-Party Apps: Many of the products built on CRM platforms offer a lot of third-party applications. But once you dig deeper, you'll find that most of the apps simply won't work for your association.
• Look at the Total Cost: Upgrades, integrations, and customizations can drive up the total cost of ownership (TCO) over time, causing your project to take longer and increasing your risk.
Find association software that supports member engagement and includes events, dynamic dashboards, certification and educational programs, email, product sales, open API, and application management. When your websites and business system are aligned, you'll have one source of truth throughout your organization.
Specifically, you should look for:
• Native association-specific features
• Native accounting/financial management
• Native CMS/website creation and management capability
55% are looking at new member management systems
Newer Technologies are Being Considered
Survey respondents noted they're also looking at other technologies, including:
• Learning Management Systems (LMS): These education platforms help you expand your online learning portfolio; 43% of respondents are exploring these solutions.
• Video Conferencing Software: This is also popular; nearly half (48%) are exploring these options given the significant increase in the number of meetings, webinars, and conferences now being held online.
• Other: Associations are also looking at CMS/website management (44%), virtual event management (38%), Collaboration software (32%) and Voice-over-IP (24%).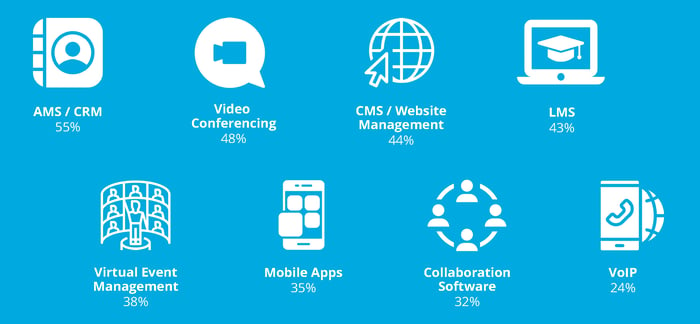 Respondents are interested in new technology
Digital Transformation is Growing in Popularity
Many organizations are recognizing the need to create a digital transformation strategy. Digital transformation is the integration of digital technology into every aspect of your organization. It involves committing to change and looking for fresh ways to accomplish goals and deliver value to members.
This is vital but yet only 40% of survey respondents reported they've put together a plan so far. Those who have already begun a digital transformation reported they're including the following elements in their plans:
• Business Processes: 70% are reinventing their business processes to lower costs, improve member services, and increase efficiency.
• Culture: 62% are examining their corporate culture to see how they can change mindsets, processes, and skillsets.
• Business models: 61% are looking at how they deliver value to their members.
• Technology: 48% are exploring new technologies to see if they can redefine their services and products.

2. Engagement Plans are Impacting Association Performance
Keep in mind that member engagement is the core of everything you do and every decision you make. Improving, enhancing, and expanding engagement should always be your focus. Developing a formal engagement plan can be a huge help in this area.
Of the 2022 survey participants who do have an engagement plan:
• 52% increased member engagement and only 15% saw a decrease
• 49% expanded event attendance
• 30% saw an uptick in annual conference attendance

Respondents reported these 5 areas were most impacted by the implementation of a member engagement plan
Creating Your Own Plan
Formal engagement plans make a real difference because they focus attention on measurable goals and your progress towards them. You need to put an engagement strategy in place that benchmarks where you're beginning, where you want to go, and how you propose to get there. The more detail, the better. But you can begin with a simple initiative -- the important thing is to start now. If you need some how-to tips, check out this great article by our friend Beth Arritt at Higher Logic.
Of those with an Engagement Plan, 52% increased member retention
3. Year-Round Mobile App Adoption is Growing
We just talked about the importance of engagement, and a year-round mobile app is a fantastic way to nurture this. According to this year's survey, most organizations (60%) don't currently offer a mobile app to their members. And, while 35% of participants are now looking into year-round apps, this has been a huge, missed opportunity that associations need to rectify as soon as possible.
Advantages for Associations
While some associations may use a mobile app strictly for events, a year-round app should be an integral part of your overall communications strategy. This is a very quick and easy way to get breaking news and information out to your members.
A year-round mobile app Is a central repository for everything within your organization, including content, engagement, collaboration, and events. For a deep dive on this topic, see our blog post: 7 Tactics Every Association Professional Needs to Know.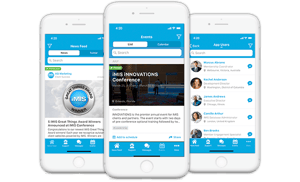 A year-round mobile app can:
• Integrate with your association software: When the app and your member management system are integrated, members can use the same login to access both the system and the app. They'll love the convenience, and you'll see a real increase in your engagement levels.
• Send Push Notifications: In this case, members control the types of notifications they get, such as late-breaking news, important event updates, cancellations, schedule changes, etc. They get the information quickly without having to do anything.
• Promote Two-Way Communications: When you communicate with members through your website or email, it's one-sided. With a mobile app, members are also communicating back to you — and to each other. A short survey or poll in the app can give you real-time feedback on how your members feel about important issues.
• Help you create non-dues/non-membership fee revenue: You can generate advertising income from your app, but sponsored content is also a great strategy to try. It's a win-win-win: members learn valuable information about new resources on the market, partners increase their visibility within your base, and you generate additional revenue.
Mobile Apps can Create New Revenue Sources
4. Retention is the Top Association Priority
Increasing retention is the #1 priority for survey participants in 2022. This is a very good sign because not long ago, attracting new members was the key objective. Association professionals have since proved that it's much less expensive to keep the current membership base happy than to constantly recruit more and more new members.
Most organizations have already developed a value proposition to ensure member satisfaction and galvanize retention. But now it's important to extend that to a "digital member value proposition" to ensure that the key resources and benefits you offer members can be delivered virtually. This is critical to ensure you can maintain steady membership levels.
Michelle of iMIS Partner, Causeis, explains the importance of the digital member value proposition
Other Association Goals
After member retention, boosting member engagement was the #2 priority for survey participants, followed by new member acquisitions. Other goals included:
• Generating more revenue beyond dues or membership fees
• Decreasing expenses
• Developing a digital transformation strategy
• Moving to the Cloud

Top 3 Association Goals
Key Challenges
The top challenge for association professionals is poor or incomplete data. And this must be exacerbated by the second biggest challenge: insufficient reporting tools.
Associations are also facing:
• High systems costs
• Virtual workforce issues
• Data silos
• Lack of a Cloud-based association management system

Top 3 Association Challenges
COVID Considerations
The global pandemic is still significantly impacting survey participants, but we did uncover some glimmers of hope:
• 44% have already resumed their in-person events and another 39% will resume in 6 months to a year.
• Attendance at virtual events is up and office expenses are down.
• 26% notice members have more time to engage and 30% see that member value has increased.
Many respondents plan to adopt at least a hybrid approach to Work From Home (WFH). Specific findings include:
• 74% say that staff are enjoying WFH, and 37% report staff is more productive this way
• 25% shared that some staff will now permanently work virtually
• Another 15% will take a phased approach to accommodate child/family care
• 11% have shifted to a permanent virtual workspace for all staff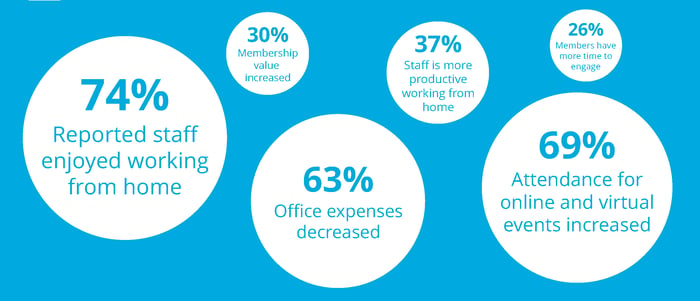 To wrap up our overview of the benchmark report, we're happy to end on a high note: When asked about future growth and sustainability, 68% of participants reported they are generally very optimistic.
68% are generally very optimistic about future growth.
Take-Aways
We hope you can use these insights in your 2022 planning. Be sure to download your copy of the 2022 Membership Performance Benchmark Report and join us for our webcast on April 21 at 11am US Eastern for a deep dive into the survey results.
As you navigate the year ahead, keep the lessons from the 4 trends in mind:
• Explore new technologies
• Implement an engagement plan
• Use year-round mobile apps
• Make retention your top priority
One of the most important take-aways should be the need to start your digital transformation. This is a critical strategy for navigating the COVID era and the post-pandemic years to come. We offer many resources you can use on your journey, including:
• Digital transformation whitepaper
• iMIS Blog Article, "3 Steps for Creating a Winning Digital Strategy" - our deep dive on digital transformation