3 Steps for Creating a Winning Digital Strategy
Debbie Willis | January 11, 2022 at 10:00 AM
Nearly everywhere you turn, you hear about "digital transformation" and how important it is to create an effective strategy as quickly as possible. We've gathered some of the best-practice advice from our clients across the globe on how they've approached this issue and what worked for them.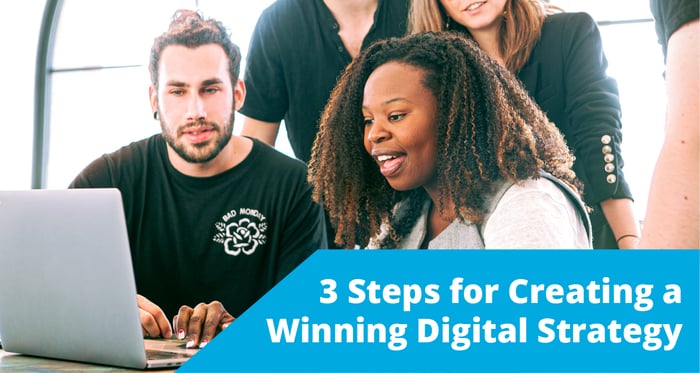 What Does Digital Transformation Mean for Associations?
This term is often discussed in commercial sectors, but it's not as well defined with the association community. Digital transformation is actually a very simple — but extremely powerful — concept. It's the integration of digital technology into absolutely every aspect of your organization.

The objective is to streamline and enhance your association's operations so you can better deliver value to your members. Brilliant!

Now, to deliver on that objective, an effective strategy takes a commitment to question the status quo, continually experiment, and possibly even revamp your corporate culture. It's a time to embrace change and look for fresh ways to accomplish organizational goals.

Download our new whitepaper chock full of great information you can use now to start your journey. Throughout today's post, we'll provide page numbers to drill down on some of the whitepaper's most important insights.

Digital transformation is the Integration of Digital Technology
into
Every Aspect of Your Association
How Has COVID Affected the Digital Landscape?
While some associations were already adopting cloud-based computing, the COVID-19 pandemic accelerated the movement. Suddenly, organizations had to conduct nearly all business remotely — and it looks like they'll need to do this for the foreseeable future.
Cloud-based computing is no longer a nice-to-have goal, it's essential for you to thrive. For many organizations that were already in the cloud, the pandemic offered an unexpected opportunity for growth. Because they already had the necessary tools in place, they could easily shift to supporting their members virtually with very little downtime or need to visit locked-down offices. The associations that embraced cloud technology were prepared for the future — and this was an important lesson. How ready will you be for the next crisis?
Many Associations that were Prepared and Already in the Cloud
Grew
Significantly During the Pandemic
What Goes Into an Effective Plan?
Many associations want to create a plan but aren't exactly sure how to start. You may be asking, "What are the core components? How should the plan be structured? How should we prepare? Will my association management software be able to keep up with new demands?" These are all great questions, and our new whitepaper gets into the details (be sure to check out page 2 for specifics).
Every plan is different because every association is different, but you should start by considering the following factors for a well-rounded approach:
Your Association's Business Model: Look at how your organization conducts business to determine if you can increase efficiency, effectiveness, and member value.
Your Business Processes: Reevaluate each of your processes to determine if they can be automated, modified, or even eliminated if they're not serving your current needs.
Your Culture: Take an objective look at your organization's culture — is it open to new ideas? A few years ago, Work from Home (WFH) was seldom practiced in the association community, yet now it's the norm. There may be other out-of-the-box ideas you can explore, but you need to create a culture that's open to experimenting, changing mindsets, improving processes, and employing different skill sets.
Your Technology:  Assess whether your current membership management software can support your digital transformation. This is where many groups start their transformation — by determining which technologies need to be added or replaced to begin the transformation journey. In this case, it's likely you'll need cloud-based association management software.
To look at all of this, you'll need to convene an Innovation group to objectively consider the aspects above and make recommendations. More on that next.

Reevaluate Each of Your Processes to Determine if They Can Be
Automated, Modified, or Even Eliminated.
How Do You Develop an Innovation Team?
Creating an innovation group sounds easy — it's just like a regular committee, right? Wrong! It's a selection process that requires careful consideration. This team will look at your entire organization to identify areas for improvement and propose new ideas no one has yet considered. 
You want to bring together a diverse team of people, including those with varying:
Skill sets (Membership, Accounting, Operations, Education, IT, etc.)
Ages
Backgrounds/life experiences
Professional experience levels (executives/middle management/entry-level)
Extroverts and Introverts (those who quietly have great ideas but aren't always comfortable sharing in a typical work environment)
Most of all, the individuals must have the ability to think creatively and critically. They must be empowered to speak their minds, experiment, and not be afraid of proposing innovative ideas because they might fail. They need to see the bigger picture and be willing to challenge the status quo for the long-term good of your association.
An Innovation Team Must Be Empowered to Speak Freely, Experiment,
and Not Be Afraid to Fail.
What are the Top 3 Steps to Creating Your Winning Strategy?
Each organization is unique, with varying needs and objectives. There's no one-size-fits-all approach but, based on ASI's experience in working with more than 4,000 clients around the world, we've found the most successful associations keep these three steps in mind:
1. Start Planning Today:
You never know when the next crisis will hit, and you need to be ready. So, a digital transformation plan should be one of your highest priorities. Our new whitepaper will walk you through how to:
Build a successful plan: Check out page 2 for tips on how to structure your planning initiative, what to consider, how to get started, etc. It doesn't need to up-end your organization — you can start small, but it's important to start now.
Eliminate data silos: Using different applications that don't integrate well with your association management software prevents your organization from making important decisions based on accurate, real-time data. You need an Engagement Management System (EMS) with one database, one complete, up-to-date historical member record that gives you complete confidence in the integrity of your data.
Adopt the best practices of the most successful associations: Our whitepaper outlines three critical elements you'll need in place to achieve your transformation goals. Don't miss these — see page 3.
Streamline your organization's performance: Your association needs to be operating at peak performance to weather today's challenges and prepare for future obstacles. See page 9 for tips on how to do this. An Engagement Management System can make the process so much easier.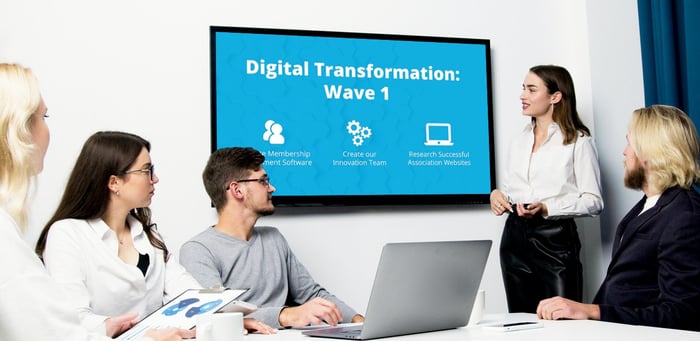 2. Ensure You Have the Right Technology:
The most vital element of any successful digital transformation strategy is making sure you have effective membership management software that can support your current objectives as well as anticipate your future needs.
To do this, your business system and websites need to be one and the same — where websites and databases emanate from the same source.
You need to create a dynamic web experience where members find captivating content and valuable resources that are personalized to their interests and needs. Members should be able to effortlessly engage with their peers, register for events or courses, pay dues, manage profile updates, and see updates immediately on the web.  See page 10.
The technology should also empower your staff to easily make changes to the system, especially to your web pages, without programmer help. With a cloud-based system, like an Engagement Management System (EMS), maintaining data security and upgrades are someone else's problem, thereby freeing your staff to focus on members.

3. Learn Everything You Can from Your Members:
A cloud-based membership management software will help you engage your members in every interaction they have with your organization — so you can learn from their interests, their habits, their fears, and their aspirations.
But, to do this, many elements must be aligned, especially association management software, websites, and mobile devices — such as with an Engagement Management System. With an EMS, you'll be able to spot emerging trends from your real-time dashboards and pivot as necessary to ensure your association's long-term growth.
Be curious; look closely at your data to understand what your members want and how best to deliver it to them. This is an ongoing process of discovery and is an essential part of your digital transformation journey. See page 8 for more information on becoming a "learning organization."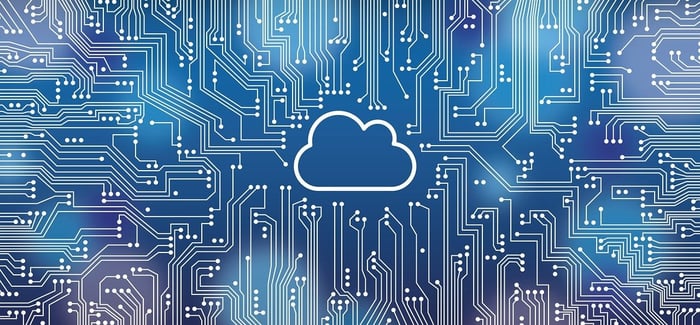 Most Importantly: You Need an Engagement Management System
That's Capable of Supporting & Optimizing Your Digital Strategy.
Take Aways
We've covered a lot today; here's a recap of what you should take away: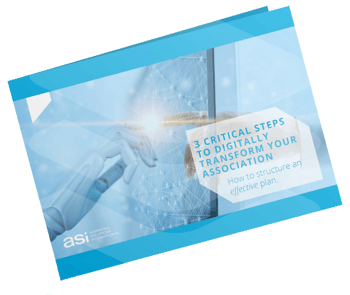 Looking to boost engagement? Check back next Tuesday for our post on creating a dynamic web experience for your members.