iMIS
Q3 2022 iMIS Product Update
Discover the newest features & updates available in iMIS including: the new Query Template Display, expanded types of files that can be attached to iMIS communications, and more!
---
After two years of pandemic social distancing, Zoom meetings, and various office/hybrid/work-from-home configurations, it feels like we're finally working towards moving back towards normal. Now that Summer vacations are in the rear-view mirror and we have a chance to look ahead, this Fall feels like a return to in-person meetings and, I'll tell you, I'm ready for it.
I just got back from ASAE's 2022 Annual Meeting & Expo in Nashville, Tennessee and it was great to hang out with so many iMIS friends. To those who took the time to stop by the iMIS booth and say "hi!", it was great to see you and hear about some of the awesome things that you're doing (or planning to do) with iMIS!
Don't Miss These iMIS User Conferences:
September brings us to Arlington, Virginia with our good friends from NiUG International, the iMIS users group, for three full days of iMIS, OpenWater and TopClass LMS education.
On September 12, NiUG International will hold the

2022 Discovery Day

featuring a full day of iMIS training developed for users by users.

Then, September 13-14, ASI will hold the

2022 iNNOVATIONS Conference

, the premier event for ASI's suite of non-profit solutions including iMIS, OpenWater and TopClass LMS.
Plus, we're heading across the pond to London, UK on 29th September for the 2022 iNNOVATIONS Day conference with our European iMIS users and partners.
These conferences are a fantastic opportunity to catch up with friends, old and new, and see how iMIS continues to evolve. There's so much to learn and to talk about, and three days hardly seems like enough time. We'll fit in as much as we can and make sure you take home some new tricks that you can put right to work, increasing your engagement and better serving your members and donors.
What's New in the Q3 iMIS Update
Right now, we're rolling out the next update to iMIS EMS! So let's dive into see some of the great things that you have to look forward to with iMIS EMS!
Convenient Reporting Distribution & New Reports
We're continuing to strengthen reporting and business intelligence in iMIS, to give you the tools to analyze and act on the data that comes along with each of your customer engagements. As we continue to make Report Writer a key part of your analytics, we have made it easier to attach Report Writer reports to your iMIS Communications to get that information into the hands of the users who need it. This release will include some common reports to help you communicate with your customers, or you can create your own. Of course, since these use native iMIS reports, it's easy to modify them to fit your organization's needs.
Event and product invoices

Account statement

Billing renewal notice
Improved Business Objects for Fundraising
We've also improved some of the business objects that are used for fundraising reports and queries, we've added some date/time objects to make it easier to do complex date/time calculations and to help display profile images within reports and queries.
Introducing the New Query Template Display
The new Query Template Display makes it easier to format your query results in a friendlier display, including the popular Card style layouts, and allows you to embed if/then logic within the display. For example, if the contact is a Student Member, you can display a special Student badge in their profile.
User Experience Improvements
We're also always looking for opportunities to improve the user experience for all iMIS users. In this release, we have updated account page layouts in the staff site to put all the essential information about your contacts in one place. We've also made it easier to access user security to maintain login accounts. If your organization uses Microsoft Azure Active Directory, we've added OpenID Connect integration so that you can manage all your staff users from your Active Directory, simplifying user account management.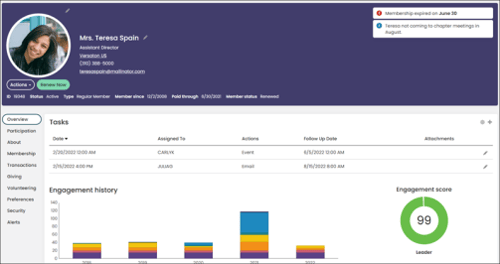 Per Your Request: Quality of Life Enhancements
Last, but certainly not least, we've added some quality of life enhancements in response to user feedback and requests from our client and partner communities. We've had several requests to allow documents other than PDFs to be included as communications attachments, check out the expanded list of allowed file types to include MS Office documents, .ICS calendar invitations, image formats and more!
We've also been asked to allow for more control over address flow down when a contact changes their organization, you can now have the option to choose whether to flow down the address from their organization. When so many people are working remotely, this seems especially relevant.
Explore The Latest Enhancements
If you're interested in more information about iMIS new features, check out our New Features documentation. Also, there is comprehensive in-depth training available for iMIS users at the iMIS Learning Hub to help you dig in and put iMIS to work for you. Thank you for being a part of the iMIS Community. We're always happy to hear from you. If you have any product feedback or would like to share your iMIS EMS success stories, please feel free to get in touch. We can be reached at productowners@imis.com.