Member Retention
How Professional Associations Can Leverage the Power of a Modern Engagement Management System (EMS)
A modern Engagement Management System (EMS) streamlines processes, improves communication, and enhances member engagement for professional associations.
---
A professional association represents a community of individuals who share a common interest or profession. To effectively serve their members and achieve their mission, it's important for professional associations to maintain strong engagement with their members.
An engagement management system (EMS) is a software platform that helps associations manage their engagement with members, often including activities such as membership management, event registration, communication, and more.
Why is having a modern EMS so important?
Here are some reasons why it's important for a professional association to ensure they use a modern EMS:

Streamlining processes: A modern EMS can help automate and streamline many of the tasks that are necessary for managing a professional association, such as membership renewals, event registration, and communication. By automating these tasks, associations can save time and resources, and focus on providing better services to their members.

Improved communication: An EMS can help professional associations communicate more effectively with their members. This can include sending out newsletters, announcements, and other communications on a regular basis. A modern EMS can also allow for two-way communication, enabling members to provide feedback, ask questions, and engage in discussions.

Better member engagement: An EMS can help professional associations to better engage with their members by providing opportunities for members to participate in activities, events, and discussions. A good EMS can also help associations to gather feedback and insights from members, which can be used to improve services and programs.

Data management: An EMS can help professional associations to manage and analyse data about their members. This can include information about member demographics, engagement levels, event attendance, and more. By gathering and analysing this data, associations can gain insights that can help them improve their services and programs.
Overall, a modern EMS can help professional associations to manage their activities more efficiently and effectively, communicate better with their members, and improve member engagement. This can lead to a stronger, more vibrant professional community and a more successful association.
The iMIS platform for associations is the only solution dedicated to engagement management and performance improvement.
Why does member loyalty matter?
Member loyalty and member engagement are two related concepts for a professional association. Member engagement refers to the level of participation, involvement, and interaction of members with the association's activities, programs, and services. Member loyalty, on the other hand, refers to the commitment and dedication of members towards the association.
The link between member loyalty and member engagement is that the more engaged members are with the association, the more likely they are to develop a sense of loyalty towards the organisation. This is because when members actively participate in the association's events and activities, they feel a sense of belonging and connection with the organisation. When they have positive experiences with the association, they are more likely to continue their membership and recommend the association to others.
On the other hand, if members are not engaged, they may not feel a strong connection to the association, and they may not see the value of their membership. This can lead to members not renewing their membership, or not actively participating in the association's activities.
Therefore, to increase member loyalty, it is important for the association to focus on member engagement by providing relevant and meaningful programs and services that meet the needs and interests of its members. By doing so, the association can create a sense of community, foster relationships among members, and ultimately increase member loyalty.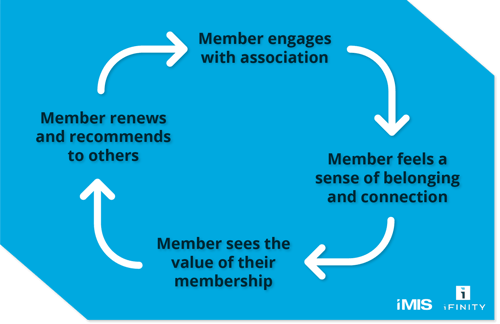 What is the difference between a "traditional" CRM compared to a modern EMS like iMIS?
An Engagement Management System (EMS) and a Customer Relationship Management System (CRM) are both software systems designed to help organisations manage and interact with their stakeholders. However, there are some key differences:
CRM

EMS

Focus

Managing customer relationships in commercial organisations by tracking customer data.

Managing engagement with stakeholders in non-profit organisations. An EMS is purpose-built to help non-profits manage all interactions and engagement with their stakeholders, including customers, partners, employees, and other stakeholders.

An EMS is purposely designed for use by Professional Bodies with the functionality needed, a CRM is not.

Scope

Includes features such as contact management, sales management, and customer service management designed specifically for commercial organisations.

Often includes features such as event management, email marketing, social media management, and other engagement-focused tools. This means that an EMS has a broader range of features as standard and capabilities than a CRM system.

Data

Typically manages transactional data related to customers, such as sales history and customer support interactions.

An EMS will include similar data to a CRM, but also manages non-transactional data related to engagement and interactions, such as email open rates, social media interactions, and event attendance. All within one system.

Audience

Most often used by sales, marketing, and customer service teams.

May be used by a wider range of stakeholders, including event managers, communications teams, and other engagement-focused teams.
In summary, while both an EMS and a CRM are designed to help organisations manage and interact with stakeholders, an EMS typically has a broader focus, scope, and range of capabilities, while a CRM is primarily focused on managing customer relationships and transactions.
What should you expect to find in a modern EMS?
An Engagement Management System (EMS) can be a powerful tool to facilitate member engagement, retention, and loyalty for a professional association. Here are some key features to look for when choosing an EMS to help you achieve these goals:

Communication Tools: Look for an EMS that has strong communication tools, such as email marketing and newsletter creation features, to help you stay in touch with your members and keep them informed about upcoming events, new resources, and other relevant information.

Event Management: An EMS with event management features can help you create and manage events that are tailored to your members' interests and needs. This can be a powerful way to engage members and build a sense of community.

Member Management: Make sure the EMS you choose has strong member management features, such as member profiles and member directories, to help you keep track of your members and facilitate communication and networking among them.

Analytics and Reporting: Look for an EMS that includes robust analytics and reporting features to help you track member engagement, measure the effectiveness of your engagement strategies, and identify areas for improvement.

Native Content Management System (CMS): As everything today is carried out on the web with digital transactions, an EMS needs to include the capability to manage your web presence. This includes your main web site, sub-sites and micro-sites. Having a CMS natively within the EMS eradicates the need (and risk) of integrations, multiple data bases and costs associated with that path.

Integration with Other Tools: An EMS that integrates with other tools such as marketing, social media platforms, can help you reach your members through multiple channels and create a more seamless experience for them.

Personalisation: An EMS that allows for personalisation, such as customised content and messaging, can help you create a more personalised experience for your members and increase their engagement and loyalty.
By selecting a modern EMS, such as iMIS, that includes these key features, you can better facilitate member engagement, retention, and loyalty for your professional or trade association.
---
About iFINITY: At Ifinity, we only work with non-profits and through long term teamwork and a focus via The Memberwise Network on best practice, we know what associations, charities and unions need to build to serve members now and in the future. We are the appointed Premier partner for ASI, the world leader in association software, and are based in the UK covering the UK and Europe. Talk to us now about how iMIS EMS, TopClass LMS and OpenWater award process software can allow you to engage better.
Since 1994, our cutting-edge products, unparalleled responsiveness, and award-winning services have helped organisations like yours increase their operational and financial performance by leveraging best practices and proven solutions. For more information about Ifinity, please visit the website at www.ifinity.co.uk or call +442089620325.