Meet the January 2022 iMIS Great Things Award Winners
Nathan Slovin | January 20, 2022 at 9:15 AM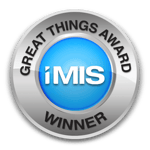 The iMIS Great Things Awards were created to celebrate and recognize clients (and their solution provider partners) who are using iMIS more, using it better and getting greater value from the system; the award is not about being perfect, but it is about committing to and striving for continuous performance improvement using iMIS to advance your mission by serving your members, donors and community at the highest levels.
Awarded monthly, we review countless submissions from the iMIS community, sharing stories on the great things their peers, colleagues and partners are achieving. We are pleased to announce the January 2022 winners:
Congratulations to the National Academy of Elder Law Attorneys
Established in 1987, the National Academy of Elder Law Attorneys (NAELA) is a non-profit association that assists lawyers, bar organizations, and others. NAELA's mission is to educate, inspire, serve, and provide community to attorneys with practices in elder and special needs law. NAELA currently has members across the United States, Canada, Australia and the United Kingdom. Members of NAELA are experienced attorneys trained in working with the legal problems of older Americans, and individuals of all ages with disabilities.
Background:
In reviewing the benefits of the latest iMIS version and the advantages of the iMIS upgrade program with Authorized iMIS Consultant, John Consulting, NAELA quickly realized the importance of automatic upgrades, the benefit of immediate access to enhancements and new features, and peace of mind with timely security update deployments for the future of their continued iMIS use.
Ann Watkins, Senior Director of Operations at NAELA and iMIS client for over 10 years, shares four key steps that were critical in planning their migration from iMIS 2017 to iMIS EMS Enterprise in the cloud last year.
Four Key Steps to Upgrading iMIS EMS Enterprise:
Step 1: Conduct a complete analysis of all processes and document all existing custom system enhancements
NAELA took advantage of ASI hosting's complimentary evaluation version of the iMIS product was key to showing NAELA how iMIS standard product features would replace custom enhancements.
Step 2: Review, update and convert iMIS website templates
While it seemed a daunting task with over 12 websites and utilizing five different themes, NAELA was pleased to discover that their sites and themes were compatible with the cloud and took this opportunity to modernize the designs and utilize features to improve their members web experience on all devices.
Step 3: Schedule a dry run of the entire migration process
After documenting all go live steps, NAELA conducted a dry run of the migration process a few weeks prior to go live. Ann shares how ASI hosting was flexible and supportive in assisting NAELA resolve all issues discovered during their dry run, which in turn saved NAELA a lot of downtime and headaches at go live.
Step 4: Go Live
After a year of planning and prepping, it was time for NAELA to go live! Migration started at 3pm on a Thursday and was complete by that evening. NAELA attributes their iMIS upgrade success from the commitment and flexibility of ASI's hosting team, Association Technology Solution's (Authorized iMIS Solution Provider) expertise in converting existing integrations to be cloud-friendly, and to John Consulting for going above and beyond in supporting NAELA's iMIS journey.
"Six months after going live some of the notable benefits of being in the [iMIS] cloud include faster page loads, dozens of new features including the report writer which we use to create custom receipts,

enhanced security, lower hosting costs, automatic updates

…"
Learn more about the iMIS upgrade program (www.advsol.com/imisupgrade) and review latest features available in the cloud (www.advsol.com/featuresguide).
Congratulations to the College of Traditional Chinese Medicine Practitioners and Acupuncturists of British Columbia
The College is the official professional regulatory authority that regulates the practice of Traditional Chinese Medicine and Acupuncture in the province of British Columbia. The College is a self-regulatory body that operates under the auspices of the provincial government and through the Health Professions Act, the Traditional Chinese Medicine Practitioners and Acupuncturists Regulation, and the College Bylaws. The College, as an institution, is politically unaligned and all its activities are entirely separate from electoral politics. The College serves and protects the public interest by regulating the safe, ethical practice of traditional Chinese medicine in BC.
Background:
When Lee Riekman, Compliance Administrator, joined CTCMA he quickly realized the need to modernize the Compliance Team's complaints case management system. Lee helped the team migrate away from static Microsoft Excel spreadsheets to using their iMIS database, which was already in use by other teams at CTCMA and could be configured out-of-the box with its powerful Intelligent Query Architect tool and RiSE web development platform. The new site showcases always up-to-date current data and analysis on useful dashboards accessible by the entire team from anywhere.
"One of my first tasks at CTCMA was to help our compliance management team step away from excel spreadsheets and build a RiSE website for a complaints management system; this included learning to use business objects and create IQAs through the

iMIS Help Site and the iMIS Learning Subscription which were quite helpful

. I really like the modularity of the iParts. The iParts are like Legos, you can assemble it all together creating a page piece by piece, I added alerts, charts to display data and before I knew it I had a dashboard that was very useful. I check this dashboard every morning when I start work …"
Find out more about the iMIS Learning Subscription that empowered Lee to get essential iMIS training on the iMIS Intelligent Query Architect, iMIS Business Objects, and iParts at www.advsol.com/learning.
Congratulations to the Australian Medical Students' Association

Australian Medical Students' Association (AMSA) is the peak representative body of Australia's 17,000 medical students. Its mandate is to connect, inform and represent the emerging health workforce. Through its national advocacy program, the organisation works closely with numerous government agencies and professional organisations. AMSA convenes ten national events each year and produces guides and materials, webinars, training modules and exam materials to reinforce medical student learning across diverse areas of healthcare.

The Challenge:
AMSA's website, membership system, and events system were all in separate applications, and many manual processes were necessary to try to synchronise the data. The website needed to be updated and the event system couldn't distinguish between members and non-members. There were many different groups within the organisation, each with its own committees, volunteers, and events. AMSA recognised it needed a single system that could merge all the functionality into one system that was easily accessible to leadership, volunteers, and members.
The Solution:
With iMIS and the RiSE Web Development Platform, AMSA was able to provide information, answer questions, recruit new members, onboard volunteers, and ask for feedback through its new website. AMSA began using iMIS to manage its volunteers, groups, members, and partners. Manual processes were reduced and each of AMSA's groups (committees, the events team, advocacy team, etc.). were able to take control of their own websites/pages to ensure they remained accurate and up-to-date.

The Result:
iMIS was selected because it enabled AMSA to incorporate everything it does into one system — including membership, events, and especially the website. AMSA's new site is professional, relevant, and fresh. AMSA has increased its calls to action and can now easily use the website to highlight advocacy success, amplify its mission, and showcase the value it provides to members, volunteers, and the community at large.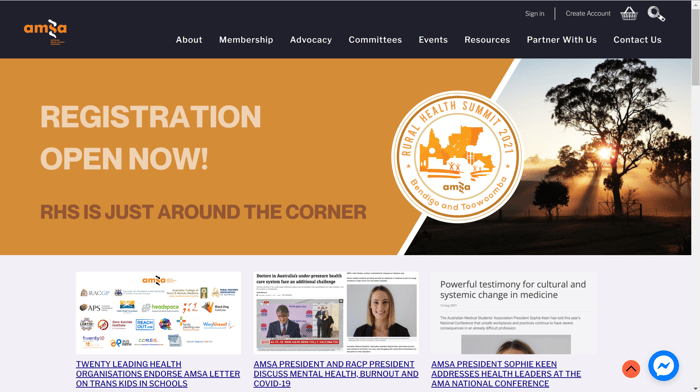 AMSA website built through iMIS RiSE
"Our new website is extraordinary! The [iMIS] RiSE Web Development Platform was

simple to learn and use

. It all made sense and it was easy to visualise each page as we created it in real time."
Visit AMSA's website: https://amsa.org.au/
Congratulations to our January 2022 iMIS Great Things Award Winners
NAELA, CTCMA and AMSA are leaders in improving overall performance for their organizations, members, and communities. A huge congratulations from everyone at ASI to our January 2022 winners for the great things you've achieved with iMIS in the last year!
Showcase Your Digital Transformation
We love hearing and sharing the great things that the iMIS community is achieving. You're invited to share your iMIS story on how your association, union or non-profit has transformed your overall performance, streamlined your business processes, improved member engagement, increased member retention, or any way that iMIS helps you achieve your mission's goals and keeps you ready for the next big thing.
Share your iMIS story at www.advsol.com/greatthings or nominate your iMIS website at www.advsol.com/greatthingsweb