Association Performance
What Are You Waiting For? Now's the Perfect Time to Start Your iMIS EMS Journey
Change is inevitable, but it doesn't have to be painful. Move beyond your concerns with a smart plan to iMIS EMS in the cloud, your last iMIS upgrade.
---
It's no secret that iMIS has been leading the industry for years when it comes to association software. Today, iMIS is the only Engagement Management System (EMS) allowing organizations to grow and scale easily, all while providing their members with a world class digital membership experience. With all this proven success and unlocked possibilities, why are some iMIS users choosing to delay their digital transformation to iMIS EMS in the cloud?
I recently sat down with one of my clients, an association that has been using iMIS for over 15 years. They are arguably in the greatest place they have ever been as an organization: strong membership numbers, a successful capital campaign, increased member affinity, a diverse and growing staff, and leading their peers in so many areas. Despite their ongoing improvements and successes, they have been hesitant, resistant even, to discuss upgrading to the latest iMIS version: iMIS EMS.
When I met with several key staff and decision makers, I asked them each to share why. Their main themes and questions were not unique to their association, in fact they are questions I've heard many times from different organizations and users in the iMIS community. So, let's explore these common concerns that can be roadblocks to fulfilling your iMIS EMS journey!
4 Common Concerns that Delay Digital Transformation
Concern #1: "Our association and members are too busy for interruptions."
Yes, your journey to iMIS EMS will take an investment of time from your staff and organization if done correctly, but it doesn't have to be an interruption or a burden. It's all in planning and executing.
At CSI, we have taken a phased approach that allows organizations the time to plan and assess where they are, versus where they are going. While this approach helps to save time and dollars, more than anything it provides clarity to our clients as they begin their iMIS EMS journey.
You can do this too by following this structured and proven process:
Current state assessment –

Conduct a p

reliminary complexity assessment and inventory key business processes and requirements.



Future State Definition –

Define your organization's end-state for people, process, and technology. In other words, reimagine your core business functions and review staffing, business processes, and technology solutions.




Develop a Roadmap

–

Evaluate your findings and develop a migration path and timeline.



Execute Your Roadmap –

Ensure you have the resources in place and execute your plan.



Implementation & Focus on Change Management –

Finally, when ready conduct the migration transition and don't forget to put the necessary time and focus on change management to ensure future success and satisfaction.

Even today, you can start taking small steps to ensure your transition is smooth and painless.

Document your existing business processes.

Review your existing customizations and identify which will need to be modified.

Review your business processes for areas where you can simplify.

Identify your 3rd party partners and integrations. Ask if those are ready to implement with iMIS EMS.

Review your existing customizations and identify which will need to be modified.

As you add new customizations and workflows, make sure they are cloud compliant.
Concern #2: "Our staff is very comfortable in our current environment"
Change is uncomfortable but that doesn't mean it's not needed. If your staff is comfortable and very knowledgeable in your iMIS environment today, they are going to love life in iMIS EMS! All the tried-and-true elements that have made iMIS great are still present, but you're going to unlock an even better user experience and user interface, more intuitive design, and all around easier to use for staff.
Like with any change or new software version, comfort and trust come from knowledge. One easy way to get your staff trained and comfortable with iMIS is by putting the knowledge in their hands with the iMIS Learning Subscription (iLS). With the iLS, your staff has access to self-paced, online training, 24/7. You can even get a jumpstart on training before you make the migration.
I have seen several clients accelerate their EMS migration once staff started to see the new features that awaited them and understood the value to their organization.
Concern #3: "Are the new features and functionality worth our investment and time?"
Simply put, YES. With over 100+ enhancements and new features in iMIS EMS, there is something that is a game changer for every association. You can search through the entire list on help.imis.com but there are several that are worth mentioning:

Complex dues pricing with only a few clicks. Wow. Membership dues billing has never been easier, no matter how complex your dues are.

Certainly, the iMIS Report Writer lets your staff build powerful reports without being a database expert. But the ability to build stunning dashboards with drag and drop areas and simple visualization options to showcase data in a variety of ways are really elevating your organization's ability to put custom dashboards in the hands of every department like never before.

Form Builder lets you scrap all those 3rd party forms platforms that are not integrated, causing extra time for staff to review and enter data, because everything is native to iMIS. You can level up your join process or volunteer interest forms with approvals and post submission workflows.

Powerful Promo Codes now let you apply discounts in the cart automatically without users needing to know the code. Membership departments can now offer bundled discounts for New Member Joins or membership renewals in advance.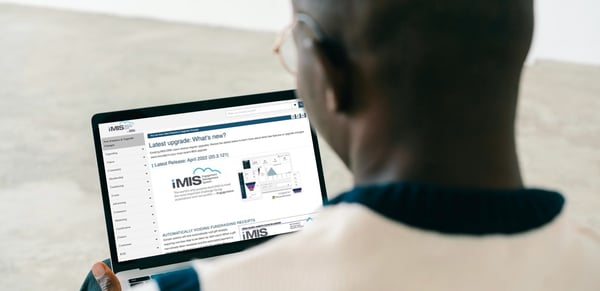 Let's not forget that the single most valuable enhancement for getting to iMIS EMS: added security. You can sleep soundly at night knowing that in addition to being in the leading cloud environment, Microsoft Azure, ASI has invested in additional security measures to keep your data safe and secure.
Concern #4: "We aren't sure which path is right for us"
When you upgrade to iMIS EMS you have options to get there! The key to making the right choice is really understanding each option and choosing the best path for your organization.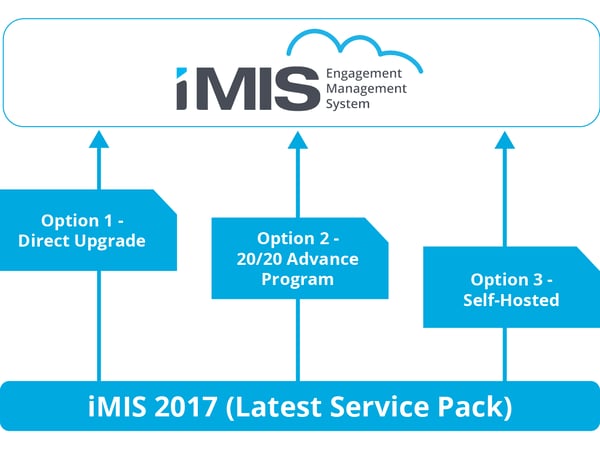 Not sure about your current service pack version? Learn how to verify it from this Knowledge Base article.
Option 1: Direct Upgrade
Think of this as the original upgrade path that takes you from iMIS 2017 directly to iMIS EMS. It's the direct option and the most efficient path for clients without a lot of customizations and changes to be made.
Option 2: iMIS 20/20 Advance Program
The iMIS 20/20 Advance Program is more of a transition step for organizations migrating to iMIS EMS with more complexity who need time to remove customizations and evaluate integrations that are not cloud friendly.
This approach gets you to iMIS EMS faster, where you can take advantage of the new features and functionality, with time to make thoughtful decisions on customizations.
During this time frame, you won't get the benefit of automatic upgrades, but you will have access to periodic releases to stay current.
Option 3: iMIS EMS Self-Hosted
New in 2021, this option opens the door for customers to experience many of the benefits of iMIS EMS, while still retaining the flexibility they need today. In fact, iMIS is one of the only (if not the only) membership and fundraising-based software packages that allows customers to "self-host". But let's back up – what does self-host mean? Self-host is a term that means, you, as the customer, can determine where your iMIS ecosystem resides. It doesn't have to be "in your office" but instead can be in an approved data center such as Microsoft Azure or Amazon AWS. In fact, you don't even need to worry about the hosting – you can leave that to the experts.
And why is this a good option? As noted, your transition to a full cloud EMS environment can now happen at a pace that saves you money and causes less disruption. At the end of the day, you get the best of both worlds (iMIS EMS and existing integrations and customizations), while you begin working on your transformation journey. We believe that for some customers, this path will be more cost effective on an annual basis – allowing you to spread the spend of your migration out over several years.
Compared with implementing a brand-new system, the staff shock alone is worth hundreds of thousands of dollars. In fact, that's probably the most overlooked nuance of a new AMS system – the sheer number of lost hours of staff time due to learning a new system and then actually using the new system. With iMIS, our customers can transition to EMS with little or no "staff shock" and still reap all of the benefits of a brand-new system.
At the end of the day, we wish we could all snap our fingers and be on an iMIS EMS solution immediately. But that is not a possibility for some. The good news is that ASI believes in the "Customer for Life" philosophy and knows that transitions take time. This option can be the magic bullet.
Option 4: An Unexpected Path
At CSI, we think several of our clients will choose a fresh, new implementation of iMIS as opposed to one of the three upgrade options listed above.
Many of our existing customers implemented 15+ years ago and many of the configurations and business decisions made then, should be re-thought (remember when we didn't trust our members to enter their own information correctly?). Going with this option/path presents the opportunity for a fresh start with fresh technology.
Recently when working with an association with all new leadership and staff, we found a recurring theme where they asked, "Why are we doing things this way?" and the answer always being "Well, former staff wanted it done that way." After a few frustrating calls and some creative thinking, we proposed a wild idea, "Let's just do a fresh implementation and set you up for success in the way that your organization and members want to be today." We evaluated their options and scoped out several paths, each time we found ourselves back to a clean new implementation being the fastest and most cost-effective approach to getting them where they wanted to be.
Thanks to a trusted partnership and some courageous leadership on their part, they decided it was the best path forward. Fast forward a few short months, they are live on iMIS EMS with a brand-new RiSE website, clean data, enhanced Join and Renew processes, and a staff more knowledgeable than ever about their data and systems. This isn't the path for everyone, and probably not even the path for many, but it was the best path for this long time iMIS client.
Unlocking Your Association's Full Potential
No matter the path you choose, a transition to iMIS EMS allows a re-think of the organization's business rules and goals using next-generation technologies – while at the same time, allowing their staff to transition to a system they already know (i.e. no Staff Shock!!!).
CSI has been serving the not-for-profit and iMIS community for over 30 years, and when we look at iMIS EMS we are not only proud of where it is today, we confidently can say it is the best system for our clients. The choice is yours, and today is the day to get started!